The Covent Garden Academy of Flowers is one of the country's leading flower design schools. The Academy's courses are varied in content and duration, yet all aim to bring flowers and design together in an inspirational and accessible way. Our one day and evening courses work on a variety of themes and seasonal subjects. Our longer courses, on the other hand, explore all the tried and tested techniques, alongside innovative ideas that will surprise and delight. Our school is accredited by the British Accreditation Council (BAC). Over the past 10 years, Principal Gillian Wheeler and her team have proudly watched thousands of students pursue new careers, launching successful floral companies of their own.
In addition to our Covent Garden Flower School, we were delighted to open our Cotswolds school and shop in 2017, where we also run a seasonal programme of Floral courses and workshops.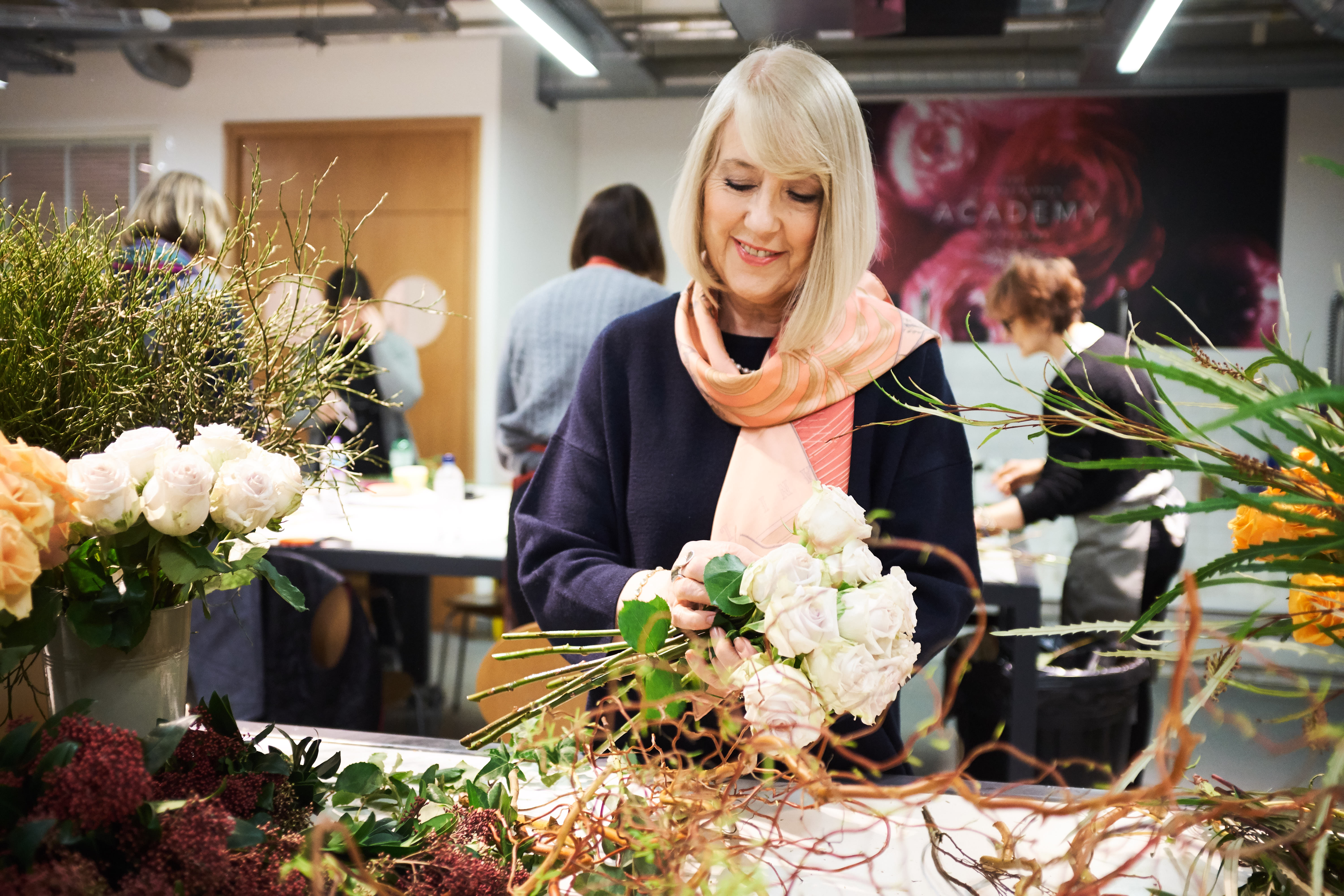 Alongside our school, is our beautiful Flower Shop. We sell a gorgeous range of fresh blooms and plants every day, and are proud to have created bouquets for thousands of happy customers over the past 10 years. We are also a Contract, Wedding and Event Florist and have created installations and dynamic work for a huge range of clients ranging from Buckingham Palace to Jaguar Land Rover. We also provide weekly flowers for a range of 5 star hotels within London.
Gillian Wheeler is the Co Founder and Principal of the Academy. Starting in Graphic Design and holding a Masters in Design Studies from Central St Martins, she has taught Flower Design for over 30 years. Moving on from her successful programme of Flower Courses at The University of The Arts, she was delighted to open the Academy doors in 2010. She was recently invited to join the selection committee for the prestigious International Floral Art publication. She published her first book "Flowers & Imagination" in 2013.
Fleur Wheeler is the co Founder and Director of Retail and Brand at The Academy. She has a background in the arts and graduated from Exeter University with a BA in Drama. Prior to opening The Academy she worked across a range of diverse departments in retail for premium lifestyle brands. At The Covent Garden Academy of Flowers she heads up the Retail Team, and her focus is the retail presence of The Academy within Covent Garden and Chipping Campden. She also teaches Flower Design across all courses at The Academy.
Dawn Lavelle is responsible for curriculum development and all aspects of training and education at the Academy. She has over 30 years experience of teaching, training and education management starting off in HR and Training in the Retail sector and then moving into Further and Higher Education; progressing to a Director of Quality at the University of the Arts, London. Dawn also spent a number of years as a Director of Enterprise and Business Development before moving into a quality management role at the University and her teaching discipline encompass Organisational Behaviour, HR, Financial and Project Management at Undergraduate and Post Graduate level. Dawn has an MA in Education and Training from Brunel University, has published research and presented at international conferences.
Madeleine Mukherjee Is Lead Floral Tutor at The Academy . She studied flower design at Post Graduate level with distinction. She previously worked at the University of Arts as a technician, flower design tutor and a personal tutor to international students. Madeleine gives excellent support with pastoral care and has helped many students achieve their potential by giving them the opportunity to find work placements in many prestigious organisations. Madeleine has worked on many large projects including events at Kensington Palace, The Houses of Parliament and Central Hall Westminster.
OUR SCHOOLS & FLOWER SHOPS
For the past 10 years we have been running our wide range of Flower Design Courses right in the heart of Covent Garden in our large studio. We also make bouquets to order from our beautiful Flower shop, which is also situated there.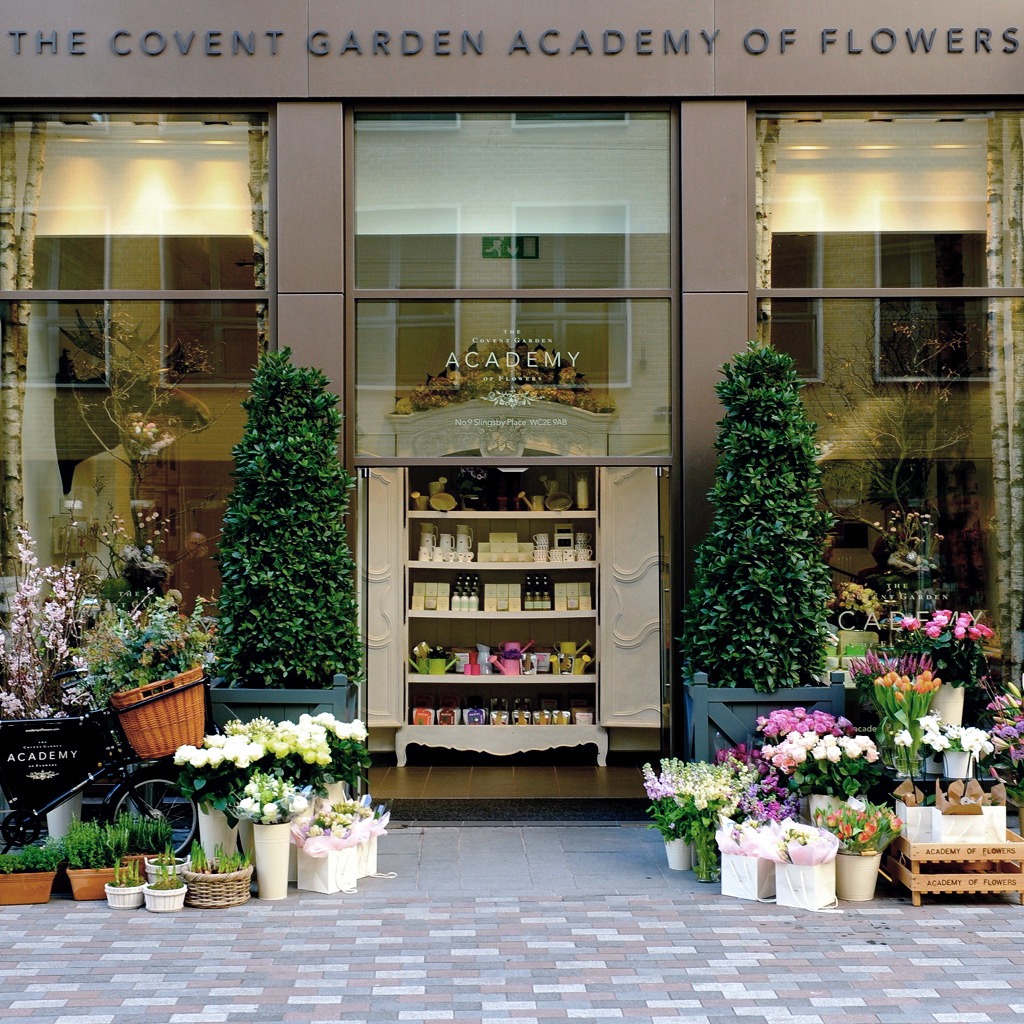 Opening its doors in 2017, our Chipping Campden Academy runs an inspirational programme of seasonal flower courses throughout the year. We also sell a beautiful range of products in our home, garden and lifestyle shop there.